Estimated reading time: 18 minutes
Get ahead of the competition by making your app worth exploring for users.
How?
Simply by implementing the mobile app A/B testing where you'll get the exact number of opportunities for your app.
It has been observed that the number of visitors on your website/app is equal to the number of opportunities for your business. Basically, you've to expand your business and for that, it's mandatory to keep a close tab on the regular and new users that are coming to your app.
Here, the best practice for achieving the exact report on gross app traffic and users' behavior is to implement A/B testing. This is undoubtedly the best technique to check the popularity of an app among users.
But before proceeding with anything to test app, you need to have strong knowledge about –
What are the top rules and tools to implement A/B testing for the mobile app?
In this article, you'll get a stronghold on all the tips and rules that can help you gather both quantitative and qualitative user insights to understand your app's potential users.
So, step ahead with the blog to know more about mobile A/B testing.
…
A/B testing also known as split testing or bucket testing. It is the proven method where two versions (control – the main page and variation – the modified one) of the same webpage or application are tested against each other to check which one is performing well.
This test is particularly initiated as an experiment where two or more variants of a product are randomly assigned to the users to gain their feedback on the same.
The major motive of mobile app A/B testing is to figure out the winning version that has the potential to optimize the version for better traffic and conversion results.
Therefore, when you go for A/B testings, you'll be able to know –
What are the best practices to carry out A/B testing?
What are the mandatory steps to keep in mind while implementing A/B testing for an app?
What are the best tools that I can utilize to execute A/B testing efficiently?
So are you ready to take a dive to get full insights on the concept?
Let's proceed…
What is A/B testing and how does it get implemented to achieve product flawlessness?
What are the major rules to keep in mind for mobile app A/B testing?
Top tools that help you seamlessly proceed with all the app A/B testing phases
What are the benefits of utilizing A/B testing for an app?
What is A/B testing and how does it get implemented to achieve product flawlessness?
A/B testing has been around for decades and it's unsurprisingly performing well when it comes to representing the exact market value of an app or website.
It's the final step that an app owner or marketer can take to know whether the app is ready to launch or it needs any other modifications to be performed for better user interaction and output.
This is the basic A/B testing concept and when you dive deep you'll get to know more about this impressive concept with all its best practices.
Let's discuss all the A/B testing best practices here in detail –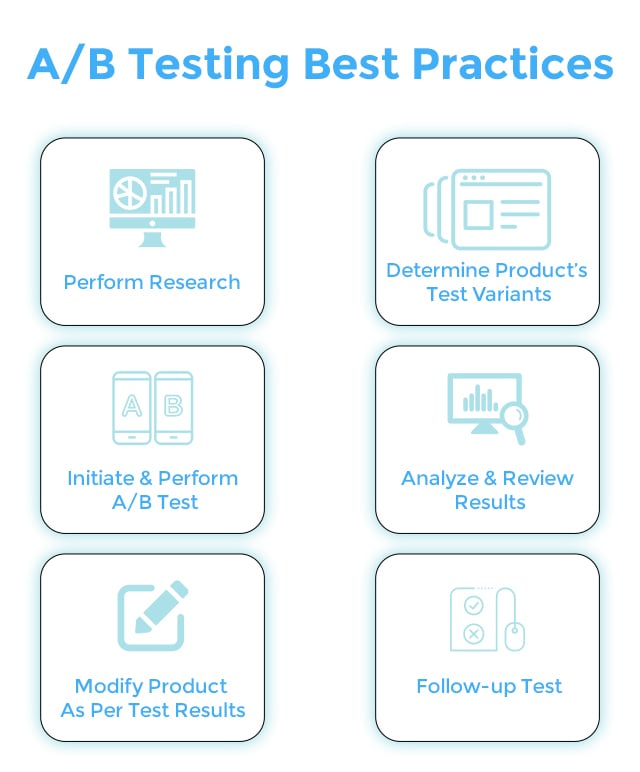 #Perform research
First of all, you'll have to be firm on what you're going to test in your app and if your test objectives are set to meet the desired goals i.e., leads and conversions.
#Determine the product's variants
Make sure you introduce the app variants with a clearly specified motive. In short, you need to mention the specific problems that you want to solve through app version comparison.
To achieve this, you need to think about what's more important for users. Or you can say which app screen orientations will grab users' attention and installs.
#Perform A/B test
After getting firm on the previous points, it's time to move towards A/B test implementation. The process iterates by setting the two or more variants of an app or website version with different layouts, designs or sometimes CTAs.
Performing the test will let you know which app version is best and ensures maximum installs for the proposed app.
#Analyze test data and review results
Mobile A/B test is all about testing and verifying the app's different versions on the basis of different factors. There are a number of features that can be considered during the A/B test including user interactions with different page/screen elements, overall time spent on a page, scroll depth and many more.
Basically, all these factors are secondary as for you, the main focal point must be the tap count on the "Install" button.
You'll have to analyze and review these factors to single out the results and the reasons that make your app stand out from the rest. And, if you still don't find any difference or growth in the app download outcomes, you can try A/B testing by putting other app variants.
#Make changes based on testing results
Till this time, you'll have a clear winner (best app version) and based on that you can easily make desired changes in your app version.
For example, if the design of your test version is performing great, you need to modify the existing version with the same. And if the new logo is attracting users towards the app, it's the time to replace the old with this one.
#Prepare for follow-up test
If you've done the A/B testing once, it doesn't mean that your app is full-fledged and can never demand further improvements. To meet the increasing users' demands and expectations, you'll have to keep improving your app. This not only attracts users but also boosts the conversion rates for the same.
Following the mobile A/B testing strategy that has been mentioned above will make you clearly understand the process of how to initiate and proceed with a/B testing for mobile apps.
It is said that to get anything implemented appropriately, one needs to strictly follow a few specified rules.
Similarly, A/B test procedures are built with some rules that are mandatory to be adhered to achieve desired results.
Major Rules to Keep In Mind for Mobile App A/B Testing
Here, you'll be aware of 10 mandatory rules that need to be kept in mind during mobile A/B testing.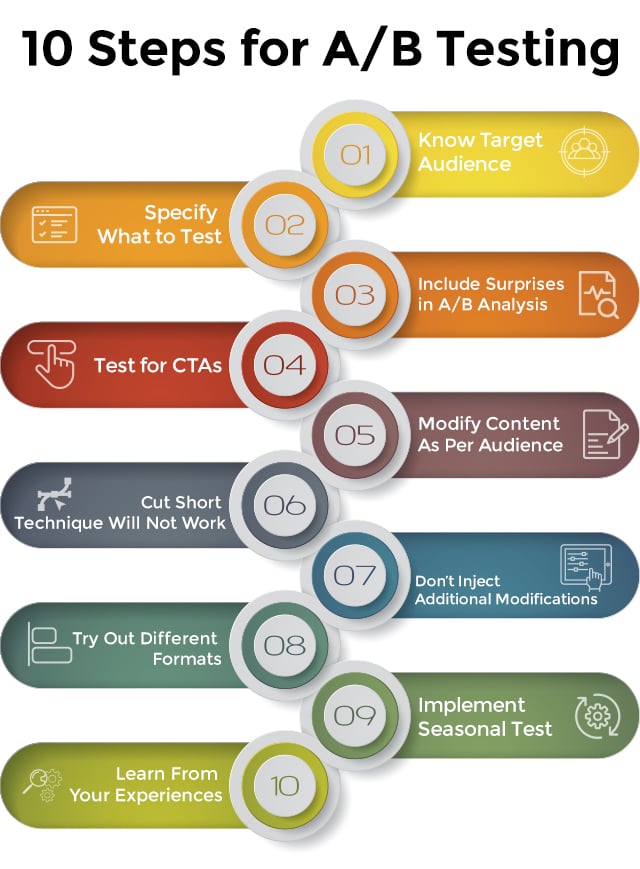 #1 Know your target audience
Knowing the target audience – it's one of the first and most important rules of marketing. It lets you know who is your target audience and to whom you need to target to test your app.
You can't proceed with A/B testing until you don't know who is your target audience as your app will be eventually tested by them only on a performance basis. You can do it by gathering and shortlisting the audience on the basis of gender, age, location, device, platform and interests.
#2 Define what you want to test in an app
Initially, it might not be clear to you why you're testing any variable or function of an app which is risky. This will never get you clear insights about the tests.
Instead, try proceeding with A/B testing by having a clear hypothesis of the app's elements so that you know what you're testing and what you would do after getting the outcomes.
This might be a simple step but if you proceed by knowing why you're implementing the test cases ensures that you're not wasting money and time on something that won't give you actionable results.
#3 Try include surprises in your A/B analysis
User behavior can't always be exactly predicted, which means A/B tests can sometimes unveil surprising results that don't go with your analysis. Welcome these unexpected outcomes and learn from them. This will prevent your app from failing and future risks.
#4 Play with compelling CTAs
CTAs are the most important components of a mobile app or website that lets the users take immediate action to proceed with their activity.
So, you need to be very careful and creative with your CTAs while introducing the app for A/B testing. Only these are the elements that can help your app attain better traffic and conversions.
#5 Modify the test content as per target audience
Content makes anything understand very easily and quickly. In the case of A/B testing for mobile apps, keeping the user-oriented content intact in app screens makes it more valuable for target users.
An app's content can be changed in different ways including the length of the page description, tone of voice, content style and use of numbers and lists. When you present such content to test, it will dramatically give you the best results.
#6 Don't cut short the testing technique
Executing the complete A/B testing scenario is necessary even when the results are not coming out up to the mark. In short, the test should not be aborted in between even when the test provides early conclusive results for an app's behavior.
To get the best results, it's good to stick with the process for long.
#7 Don't interrupt A/B test by injecting additional modifications
Generally, A/B test is all about identifying the weak areas and making mandatory changes to improve website or app performance. But still, you're not allowed to make mid-test changes.
Try not to implement mid-time changes as it might take you nowhere. The reason is, with the middle app modifications, you'll not be able to recognize which changes are providing the expected results.
#8 Try out different layout and formats
It's the best thing you can anytime implement to uplift your app's performance. Variegated screen layouts and creatively designed ad formats are the best companions when it comes to grabbing users' attention.
Therefore, always make sure to test the app with timely modified layouts. This will give you ample knowledge on which layout is being admired by the users while A/B mobile testing.
#9 Test the app seasonally
Your app test results are subjected to a particular time period when you've tested the app. Sometimes, the results that you achieve for an app before sometime might not work for the current market scenario.
To get everything on track, you'll have to run seasonal A/B test cases. This not only results in high traffic but also helps you get current users' behavior for the proposed app.
#10 Get ample knowledge from your tests not only from case studies
Try to learn from your own testing experiences. This has always been a good practice to make things better in our own ways.
During the A/B test, you must have found so many things that aren't working to achieve the desired goal. Here, you need to work on those weak points or inject some other alternative to improve the app's user experience.
If you follow the above-mentioned A/B test practices, you'll definitely be able to proceed with the activities very efficiently.
Many times, you got to know the steps and process to step forward with A/B testing. But, do you know the absolute ways and the tools to implement the mobile testing activities?
Let's discover what are these –
10 Mobile A/B Testing Tools to Consider
The tools that I'm going to mention are useful and can definitely make the A/B test process a lot easier.
The process to use the mentioned tools
Install the particular SDK in your app
Decide on the apps that you actually want to test
Next, log into the platform and modify (edit) suggested changes
After that, compare the two differently designed and tested app versions
Replace or improve the existing app version for the betterment and enhanced user engagement
If you're firm on your decisions, the below-mentioned mobile A/B testing tools are the best to utilize for app version test implementation.
Shining on the top of the list, Optimizely is considered as one of the best and the biggest A/B testing platforms. This tool is extremely effective and easy to use.
Using this tool is beneficial as it comes with useful features that allow users to make changes without saving them to the corresponding app stores. The major reason behind its popularity is its availability for iOS, Android, mobile web and desktop browsers.
Moreover, you would further love this tool for outstanding features like segmentation and personalization, providing an impressive impact on user retention.
If you're looking for a complete tool for mobile A/B testing, Apptimize is the best one to approach. The tool supports Xamarin, Java, Swift, Objective-C and React Native and thus is considered a reliable tool for developers.
Known for its best performance, the testing tool is widely used for both Android and iOS applications on variegated parameters. And the best thing is, it's available for free and paid packages to meet diversified users' needs.
Getting great support for testing results and change optimization is the essential feature that every A/B testing professional looks into a mobile app testing tool. Taplytics is the one that has all the mentioned features that make an app improved in quality and functionality.
Using this tool will allow you to have a 30 – day free trial that makes you understand the tool and also let you know about each benefit.
App analytics and up to the mark performance testing is done by utilizing the reliable mobile app testing tools. It's the positivity of Mixpanel that it provides all this with quality and efficiency.
Being an advantageous platform, it is appreciated for offering a feature list including engagement measurement, app Google analytics, audience approach and retention rate.
It's complete testing software that finds outstanding applications for efficient A/B testing. This tool allows users to mix and match more than 40 segmentation parameters.
Using this tool will never become boring for you as it grants permission to change or edit text and replace images using the in-built visual editor. Besides, all this, you can also initiate split URL testing for your app to check all the major changes.
Is it a common fact that the best customer experiences begin with the right data approach. OnmiConvert is the A/B testing tool that allows you to test your ideas. With this tool, you'll be able to test more than one version of an app or website page to know the actual conversion factors.
Moreover, the tool supports a variety of frameworks including Angular and React that make the A/B test process easier for testing professionals.
AB Tasty is the company or you can say a tool that offers best in class customer experience optimization services. To make the customer experience better and up to the mark, the tool offers a wide range of website conversion optimization solutions.
You'll find something unique while using this tool as it enables users to perform A/B test experiments based on artificial intelligence. Above all, the tool supports dynamic website testing and comes with a code editor to implement changes.
It's a reliable tool that helps you compare your original application for various factors using A/B testing. It's quite easy to use that makes it the topmost choice for the developers and other associated entities.
Apart from bringing out the optimization data, it allows users to modify and optimize images, content copy, user interface and many other related aspects. For better app optimization, the tool facilitates users with personalized settings that can be applied based on brand, age, gender and profile data.
There's no better tool than Crazy Egg if you want real-time A/B test results for your app. The tool is well-developed and helps users experiment with different sales copies, headlines and product descriptions.
Using this a b testing tool, you can perform an app test to improve your site's quality, performance and most importantly conversion rates. Testing with this tool will let you decide which page or app screen is working better as per market trends.
This is the last mobile application testing tool that offers a unique way to analyze and optimize an app on qualitative levels. The tool is well-integrated with touch heatmaps and user session recordings features that help users to easily get the track of real-time app engagement.
This tool will tell you everything including user behavior scroll records and also click results. Having all this at your fingertips can definitely lead you to take immediate yet right decisions for your app improvements.
When you use these above-mentioned A/B testing tools, you'll get to know how you can proceed with comparing two versions to achieve the best app testing results.
Till now, you are having all the major tools and rules to test apps for their performance. Follow them to run the marketing campaign if you want to know what will actually work to grab customers' attention.
After this long discussion, you must have got an idea of how you can raise your app on search engines so that it can attain maximum reach and customer attraction.
There's one more thing that you need to know before comparing two app versions for conversion rate optimization and that are striking benefits of embracing A/B testing.
A/B testing provides a multitude of benefits to an app marketing team. But it entirely depends on what you're going to test.
Major Benefits of A/B Testing
Let's explore how these benefits provide ultimate results for app success.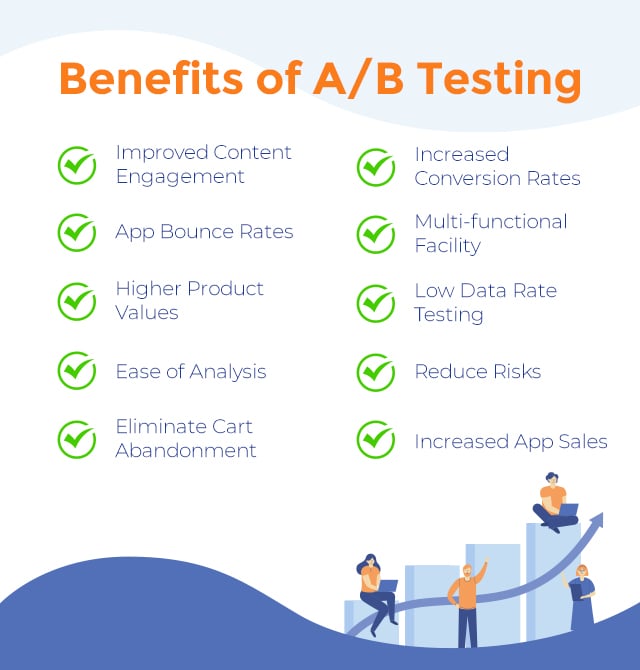 #1 Provides improved content engagement
In-app engagements are considered the deciding factor when it comes to analyzing an app for its performance. And thankfully you can improve it by generating the ideas for A/B testing.
When you generate ideas to proceed with A/B test, you're automatically forced to evaluate each and every aspect of the app's content you want to create or promote.
The best thing is that when you create a b test variable for your app, you also create a list of potential improvements that help you take immediate actions for app success. This practice makes your version better for your potential customers.
#2 Ensures increased conversion rates
Through the A/B test, you can easily attract customers and immediately convert them into buyers. In this approach, you run multivariate tests where the two different versions of a mobile app are compared for performance and quality parameters.
Proceeding with this approach will easily let you know what works and what doesn't work over the web especially when it's about maximizing app conversion rates.
#3 Reduces app bounce rates
It seems very bad when users jump to other products or links without spending time or even without viewing your app or web pages. A/B test reduces this risk as it helps developers or marketers to analyze, find and fix the issues that are the main cause of increasing app bounce rates.
You can easily do this by tweaking the font size, content headlines and many other aspects that need modification as per user behavior and interests.
#4 Multi-functional facility
A/B test has been misunderstood for some factors that can only be applied to test the performance of images, forms and actual text. But it's a myth as you can utilize a b test to uplift any marketing and (ad copy) advertising campaign.
It's the fact that this small difference can make big differences in figuring out the factors that together engage visitors and convert them into qualified buyers.
#5 Helps attain higher product values
Generally, a b testing is popular for converting more visitors into potential buyers. But did you know that it also helps a brand achieve higher values for your app or web page?
Most of the time, you feel delighted when you find a web page or app to be converting. Here, if you implement A/B test and make small tweaks to the web page design, app screen or CTA button color, you can easily win the battle. This would be your product's journey towards success.
#6 Useful for low data rate testing
Small, medium and startup business enterprises with a small website (having limited pages) can reap the advantage of this benefit. It's called low rate data testing where you can test your web pages, shopping cart activities and app's screen time even when it is recently introduced to the market.
By doing this, you can easily determine the working version and also make positive changes to increase app' outreach. It will help you quickly look at the number of page visits, overall time on page and bounce rates including conversions.
#7 Ease of review and analysis
Utilizing A/B testing is not a tough task as it makes it so easy to analyze all the real and factual results about the proposed page or app version.
Moreover, A/B test helps to determine winner or loser i.e., existing page or sample page version by simply analyzing the metrics i.e., total time spent on page and conversion rates.
#8 Reduce maximum risks
You must have observed that making major changes to a website or app functions may result in a considerable high cost. Through a b testing, you'll be able to determine visitors' behavior before implementing any major changes to your website or application.
Adopting the technique of testing different landing page versions has proved to be beneficial in terms of increasing the chances of app success. In short, utilizing mobile app testing ultimately helps avoid unnecessary functional modification risks by allowing to target the resources (website or app) for optimum efficiency and effect on users.
#9 Eliminate the number of cart abandonment
One of the major issues that eCommerce shopping carts face is the cart abandonment. It has been observed that cart abandonment rates are increasing from 40% to 75%, which is really high and impacting the entire eCommerce industry.
A/B test has made things far easier for marketers as it helps them to check what are the factors that actually cause cart abandonment. This can be easily done by comparing two or more sample size versions of a product or service. Doing this frequently definitely helps increase sales of your eCommerce portal.
#10 Increased app downloads/sales
This is the last but extremely important benefit you'll find in the list which is directly subjected to ensure increase in-app sales or downloads. With this technique, you'll compare different product versions and find out the factors that need to improve for better customer engagement.
When you do this, you'll have an idea of what to remove and what to improve in your product to increase customer engagement and conversion rates.
Make your app stand out of the crowd!
Your business is unique and also has some special characteristics. This is the reason your audience is attracted to it. And if you want to make better than this, utilizing A/B testing can be a great approach.
Mobile a b testing provides you an absolute, appropriate and best way to find the ideal combination that can drastically work for your app success.
So, what are you waiting for! Start with A/B testing if you want your app or website to be on top of your visitors' list.
Need assistance on how you can carry out A/B testing for your mobile app? Connect with our experts to get an absolute solution.
Also, download our Quality Testing Checklist for Web Application.
Download our step-by-step developmental checklist.
Frequently Asked Questions
1. What is A/B testing?
A/B testing is basically an experiment where users are given two or more variants of the same mobile app to test on different parameters. It has been considered as a conversion funnel that decides whether or not your website will get optimum and quality traffic.
2. What is A/B testing in digital marketing?
In digital marketing, A/B testing is performed by comparing two versions of a web page, email copy or any other advertising or marketing asset by varying only one or two elements.
For example, if you want to test whether or not your page headline is working, you'll have to create two pages with different headlines placed. You can do the same to check which CTA or action buttons are working the best to attract customers.
3. Why is A/B testing important?
Generally, A/B testing helps avoid a variety of risks by allowing marketers to target the resources for maximum opportunities. No matter, your marketing plans are to attain short-term conversions or long-term customer loyalty, this technique efficiently increases overall website ROI with quality.
4. Why do we do A/B testing?
There are so many benefits of embracing A/B testing for mobile apps. But the major ones that take off everyone's heart include -
Improved Content Engagement
Increased Conversion Rates
App Bounce Rates
Multi-functional Facility
Higher Product Values
Low Data Rate Testing
Ease of Analysis
Reduce Risks
Eliminate Cart Abandonment
Increased App Sales
5. How do you perform an A/B test?
There's a simple test and try a tactic that A/B test follows to make the mobile apps and websites flawless for users. It's differently carried out by marketing professionals but the major rules that everyone needs to follow are -
Know Target Audience
Specify What to Test
Include Surprises in A/B Analysis
Test for CTAs
Modify Content As Per Audience
Cut Short Technique Will Not Work
Don't Inject Additional Modifications
Try Out Different Formats
Implement Seasonal Test
Learn From Your Experiences
6. How long should you run the A/B test?
It is suggested to run the A/B test for your app for not more than one to two weeks. This is the best duration where you can track users' activity on your main different and modified versions and figure out which one is meeting their needs in better ways.
You can further implement the same strategy for some other functions to check if these are working fine as expected.
7. What are A/B testing tools?
The market is flooded with a lot of free and paid A/B testing tools but the best one that you can unhesitatingly utilize are -
Optimizely
Apptimize
Taplytics
Mixpanel
SiteSpect
OmniConvert
AB tasty
Adobe Target
Crazy Egg
Appsee