Estimated reading time: 15 minutes
Is it fair to still consider web or mobile app development as a growing industry? In my opinion, we are already there, we are at the peak of mobile and web app development, where 9/10 people use a smartphone and internet on daily basis, actually, 10/10 in most cases and apps are part of every day their lives.
Is it fair to still consider web or mobile app development as a growing industry?
In my opinion, we are already there, we are at the peak of mobile and web app development, where 9/10 people use a smartphone and internet on daily basis, actually, 10/10 in most cases and apps are part of every day their lives.
Almost everything is accessible on the web and mobile phone through applications, which pretty much shows that an entrepreneur's' first choice would be an app developer.
Many start-ups come up with business ideas related to app development, but most of them actually more than 80% of them fail because of a poor strategy.
A simple answer to their failure is inexperience, but there are a lot of factors which you could take care off before investing or creating an app for your business.
Mobile app development and web app development are brothers with same purposes but function in different devices.
So it is fair to discuss why they fail, independently.
Let's get started with why mobile apps fail?
Many companies spend millions of dollars on mobile app development, they fail miserably. Why is that?
According to what I've observed, the failed apps are either their first app which is a template of an already successful app or it's a custom app created by an inexperienced company.
Why do people opt them?
Learn About Importance of Effective UI/UX in Mobile App Development 
Because they are cheaper than many other experienced companies, who could put a hole in your pocket but still make your business successful. Which no one realizes.
Well, there are many other factors excluding these for the failure, I'm going to list them down.
Short-term thinking
The first step to promoting your app is having a marketing strategy, where the failure begins.
Marketing people are forced to think of short-term goals, with campaigns targeting 3-6 months.
These campaigns do not provide enough insights into the crowd and when there is no crowd there isn't much feedback to improve your app.
An e-commerce app takes more than a year to gain a decent amount of traffic, said that most of the companies give up before it even reaches people.
But once they reach the crowd all your hard work pays off.
Choosing a wrong idea
There are many mobile apps out there which do not have a particular purpose, which shows the idea of mobile app development itself was wrong.
Many custom apps offer "purchasing options" to engage with its users, but this strategy is known to backfire for most companies.
Mobile apps are useful when a problem is solved. One should point out a customer's problem and then have a mobile app to solve it.
Commbank was one of the first banks to launch an app which will help the customers check their account balances, transfer funds and a lot of other functions using a mobile phone.
New features were introduced consistently to appease the customers to stay engaged with the app and use it more often.
A thing you need to learn is, once an app solves a real-world problem, users will come back to it on regular basis and you don't have to spend on marketing anymore.
Same old template
There are tons of apps out there which are a copy of one of the most successful apps, yes it is an easy idea but you could miserably fail unless you put in some brain and add a few more bits and elements to make your app stand out.
I understand template apps are cheap, even when the mobile app development company you have visited might encourage you to go for a custom app.
But many entrepreneurs still try to be in the herd.
Mobile app development companies, do not give you a business idea, their duty is to enhance your idea and show it through the mobile app.
What's happening to mobile app strategies today?
The main strategies followed in developing mobile apps has become really lame and monotonous, when you go to the review section most of the defects are found by the users itself and some by the YouTubers and other reviewers.
The faults found through this channels are more than 60%.
Many apps are released without proper testing and regular enhancements after the release.
Working on the feedbacks given by this 60 % of the users will make your app a better place before all of them actually stop using it completely.
Once your app receives bad reviews and ratings there is no chance to come back on top, unless you do the enhancements and upgrades on time. Talk to your app Developer.
What are the challenges faced by the mobile app developers and mobile app development companies?
Learn About Top Frameworks for Hybrid App Development
One of the biggest challenges faced by the developers is being insufficient device coverage, lack of reliable automation and requirement of more coverage for test scenario executions is less amount of time.
App developers need to adapt to the new dynamics emerging in real time today.
Here are some factors which might help, if you are a developer.
Quick solutions
The mobile app development is not the same as it was a couple of years back, you need to adapt to the changing pace, the time take for design and development has also improved so much.
The devices are more powerful with the change in hardware and software's, there are many apps which take advantage of powerful and new features on the mobile phones which were not even introduced a couple of years back and are now standard features.
Features like dual camera, fingerprint sensors, gyro and much more could be used to the advantage of your app.
compatibility with platforms and a growing number of variables of development also creates issues for developers for robustness and security.
The overall process has been compressed as release schedules have come to weeks instead of several months.
Complex features
As explained above the smartphones are not the same anymore, they have changed so much through the years which includes connectivity, screen size, advanced sensors and much more.
As the devices get powerful, it is expected that a mobile application development company to deliver an app which could keep up with them, making use of the hardware and features.
Which is already done by some of the best app development companies.
Quality of the apps is dependent on testing, analysis and client-side visibility, for which the time required is huge.
Living up to the expectations
With every upgrade done by mobile development companies in their smartphones, the expectation of apps matching the level of the phones obviously increases and also there are some amazing apps which set new standards obviously raising the bar for other apps if you can't catch up get ready to face some unsatisfied customers. And it doesn't take a second for users to uninstall when they find a better alternative.
Why do web applications fail?
Web applications have equal importance as the mobile applications, you might've heard that usage of mobile apps have surpassed the web applications which I totally agree, but only up to an extent where the web development is not needed.
They have equal importance in your business, a business can only have a web application and not a mobile application but not the other way around.
This could change in the future because top companies like snapchat have already moved onto only mobile app already, but for now, a web application has as much importance as a web application.
Web applications have been around way before the idea of mobile apps was even born, so by now there should've been a permanent solution to ensure their success, why are they still failing?
It's the same reason mentioned above, it's just the lack of experience in building a web app by the web application company.
Although there could be similar reasons for the failure with mobile app development, let me explain it to you with 5 simple reasons.
Knocking off other apps
Copying other web applications is not at all a good long-term strategy, it's illegal, it's against ethics and just stupid if you're serious about your project.
If you ask me it's just a cheap short-term quick cash technique for a come and goes web app developer.
You could actually have a simple idea of your own and approach one of the best web development company and they would make your simple idea into something productive.
No Long-Term Closing Strategy and Poor Revenue
If you are looking for any future acquisition of your startup? What are you planning for continuous revenue flow?
Without revenue or a long-term closing strategy, the future is not very bright for any startup.
Poor Design
The design is not just how it looks, it how the user experiences.
We are not going to discuss the UX/UI of designing, but make a strategy with your web app developer or web app development company on how you are going to make things work.
Poor attention to detail towards the elements in your app that people will be using the most.
Design needs to be user-oriented. The design must be simple and clutter free that makes it easier for the end user to understand how the app works.
I know Design is a costly affair, why don't you approach a more affordable web development company which would give a better solution than a company which would rip you for simple designs.
There are many top web development companies which are also affordable, providing affordable web development services.
To know more about how the design can change your strategy read this "Web design practices – 10 stunning examples"
Poor marketing strategy
It is really important to understand the "wants" and "needs" of a market as a whole.
Generally, the best ideas come from the frustrations and limitations of the currently available solutions which include both web apps and mobile apps.
Poor Launch strategy
Without a proper initial push, you need to invest a lot of time after the launch, which should make you realize that a proper launch should be planned way ahead of the official launch.
Never plan the app launch in a hurry as it could disrupt the key elements and reasons you have built the app.
Learn About Role Of Wireframes In Mobile App Development
How do you avoid being the 80%?
The formula for building a most successful app is something which has to be born in your head, but what does a web app developer or a web app development company can do is, they can build an app which doesn't fail.
They are the real saviors who could even save a really simple idea or even a knocked off idea.
Here's how you can do it
First Move
The idea of creating an app itself should set on the path to making it a successful app, it may be an app which is structured or the idea is a copy.
For example, an app like Tinder could still be copied and achieve a great success. Look tinder is just an Idea and what you need to think is "How could you make it better?".
Copying the whole idea and features are what many startups and entrepreneurs do nowadays.
What I want you to do is, think out of the box and create the same app but add different features which could make a user want to download your app, create an app which interests people and engages them to use it more often.
Your idea might not be a great one, but it should be able to solve a real-world problem. Which is the main purpose people download apps and keep them for a longer period of time?
Finding a right Developer
You might have a great idea or even a bad one, but to make it into an app you need an app developer, it could be a mobile app or a web app, finding a right developer is a bigger step.
Choosing an app developer is not an easy task. There are a literally thousands of app developers out there who could develop an app for you. But choosing the right one will actually make your app idea a successful project.
How do you choose one?
There are basically 3 types of app developers
Experienced
Start-up
Freelance
Experienced app development company is an ideal choice because they know what they are doing and they know what makes an app successful. But they could also put a hole in your pocket, well, not all of them.
You could still save the cost of development, different companies charge a different price, likewise, different countries and regions have different prices.
No matter what the price difference is all the regions have successful apps under their belt.
Take a look at the chart below. It gives you a brief idea of how much do developers charge in different regions. It's on Per hour basis.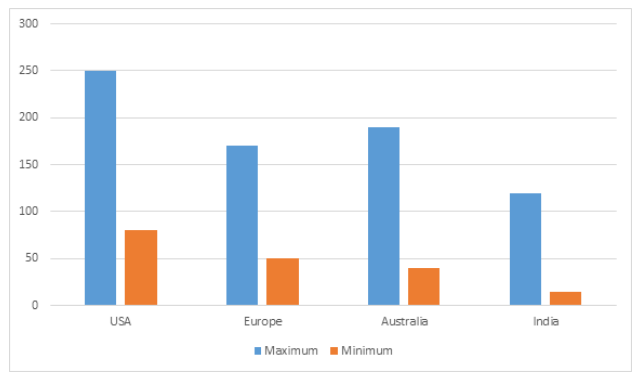 There is a huge price difference between some of them, but they contribute equally to creating great apps. I'm not being harsh but you could end up with a bad app even after spending $250/hr.
There are trust issues from region to region but it's just a myth that paying more will always give you a great app.
NMG is one such company who operates from India, sets an example for affordable web development, but still creates some amazing web apps and mobile apps, they almost cost 70% less than your local developer costs, they are as effective as your local developer and are capable of creating quality apps.
Start-up
Start-ups are a great place for investment because according to me you could end up having a kickass app at the end of the day.Or it could go the other way around is what I would warn you! Most startups are not lasting over a year, it's true that they are extremely talented and also cost less compared to an experienced company.Somehow there is no guarantee that they would last longer to support your app in the future.
But if you could find a great startup and you could trust them, it's always a great option.
FreeLancer
Freelancers are a great deal if you ask me, they are talented and you could go crazy with your ideas if you don't need interference for your app idea from the developer.
But they come with their own baggage, which I'm going to mention the points below.
They take a lot of time, as there is not a team.
Less reliable, I've heard cases where they disappear or make excuses and a lot of other excuses, some of them actually give up wasting all the time you've invested.
No after support, you need to hire a new one probably, well in most cases.
Testing
The most important phase of the app launch, this is the stage where you would actually find out all the glitches in your app and solve them forehand.
A professional testing team does what it does, but did you know that you could also do that from your side. Use the app, ask questions even though they might be silly, who know that silly problem could be a real problem.
Check all the features and design are what you have expected and wanted. It's okay to compromise if you think the developers did a great job. it doesn't really matter unless it won't impress you.
Proper Marketing
While your app burden is laid off on the developer, you should take up the duty of marketing your app.
This is one of the important things which would give you a kickstart to your app; a marketing strategy should last from beginning the project till the app is actually gaining some momentum. A period of say 3 months to more than 12 months should be a good marketing strategy, get on social media and other firms to promote your app. Provide some exposure to people before the app is launched talk about features that would solve the purpose in real-time.
Marketing strategy is where an app would actually get a shot to prove its potential, if you are not doing this then you have no right to blame the app.
Use the feedback
For Christ's sake please open your eyes and read the feedback provided by the users, read all the comments and reviews.
If you think you don't have much time, hire someone who could take a note of all the negatives pointed out by the users.
This actually helps your app to come on top and make it a better choice for the others in the market. I'm speaking in terms of mobile apps especially if your app is rated low, it's really hard to promote it further. Because "did you ever install an app which is rate 3 stars?".
Optimization
Search engine optimization (SEO) for Web apps and App search optimization (AS0) are a part of marketing strategies and they can help you a lot in marketing your app.
Ranking your apps on the search engines and app stores is the main priority and it should be done as long as you are running the app and it is one of the stepping stones to success. If you would like to know more about optimizing your apps read this "Tips to make your App rank high in App Store and Google Play Store"
Remember optimization will give your app a great exposure and would actually help it gain all the popularity it deserves.
Conclusion
Each of these factors which contribute to the success of your app has a multitude of possible variation in what can go wrong and throw your application off the track and into failure zone.
Sometimes you can never guess what went wrong despite outsmarting all possibilities for errors.
But what you can certainly do is the plan and be observant for ways your original intent and the expectations users could be undermined. Which I think would give your app a fighting chance of achieving success and get what it deserves, avoiding the probable risk of failure.
If you are someone who is on the look for a reliable, affordable and a best web development company with immense experience, you should know about NMG.
NMG has a profound experience of 10years in Web app development and Mobile app development and 500 clients across the globe. In which at least 90% of them had a past of bad app development experience.
Their work is a testimony of all that experience, they don't have to build each and every module from scratch. Since they have don't it a thousand times and determined the most common ones. Remember when I was talking about an experienced company this is a perfect example of such a company. And they provide excellent quality assurance web development.
The processes and strategies have a great success track of 90%, which makes them an obvious choice for clients who come across NMG.
Their costs for development are much lower than an average developer in your region, because they operate from India where you get highly talented developers at an average cost per hour is relatively lower than any other region in the world.
Do take a sneak-peek on to their website.