Estimated reading time: 14 minutes
Discover how NMG is managing everything by setting the entire team for Work From Home during Coronavirus lockdown.
Here are the best strategies and tools you need to know.
No one has ever thought that they will be undergoing a complete lockdown in their lifetime. But unfortunately, we all are confronting this nowadays.
We all are facing these circumstances due to the viral spread of the Coronavirus outbreak which has been declared a Pandemic by WHO.
In this critical situation, it's everyone's duty to self isolate as a collective society and break the chain of viral spread.
…
Covid-19 is affecting lives, regular basic chores and most importantly impacting almost all types of businesses with its rapidly increasing risk rates.
As a result, all businesses in the private sector have to overnight turn to manage their teams and projects while working from home. In such scenarios, many companies have efficiently managed their work from home and many are still struggling with how to make everything work out perfectly for their clients and projects.
Background about CoronaVirus and Government of Delhi and Haryana mandate to private companies
Covid-19 commonly known as Coronavirus that is spreading vastly and putting everyone's life in danger.
The disease might not be detected with extremely painful or severe symptoms, but actually, it's leading mankind towards a big life risk.
World Health Organization (WHO) is giving continuous updates on Coronavirus and informing us on how we can prevent ourselves and our loved ones from this rapidly spreading epidemic.
By observing the aggressively increasing risk rates due to Coronavirus, many State governments have ordered a lockdown on Sunday – 22nd March 2020. The orders were for a lockdown from 23rd March 2020 to 31st March 2020. However, the Prime minister later made it a full country lockdown for 21 days till 14th April 2020.
We at NMG have offices in Gurugram (Haryana) and Delhi, we pre-planned to start working from home effectively during the lockdown.
Preemptive steps taken by NMG to prepare for Work From Home
Our organization preempted this lockdown and planned to operate remotely to serve our clients and meet their project deadlines.
We at NMG have always used cloud-based solutions for our design, development and digital marketing teams to ensure there is business continuity and efficient project management in scenarios such as this.
Some of these processes, tools and platforms have helped us manage this remote work transition efficiently.
Below are steps we took for Work from Home preparedness for our teams. Here, you'll get amazing working from home tips that can help you manage your work and teams remotely.
1. Company-wide Surveys for Work From Home readiness
We did a company-wide " Work from Home readiness" survey in the week between 16th – 20th March with a view that a social lockdown was soon coming.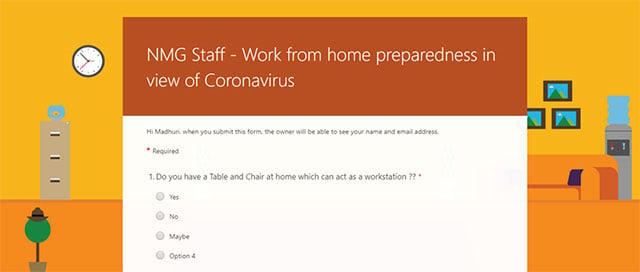 Work from Home Readiness Survey 1
2. Allocation of laptops and emergency purchase
After the survey submitted by all the employees, we did a gap analysis on our Work from Home infrastructure and got the data for how many employees already have personal PCs and laptops and the number of laptops we need to arrange to fasten the Work From Home process.
We quickly moved to fulfill IT hardware procurement requirements and procured the necessary hardware for the team with all the required software and tools.
3. Broadband readiness (Work from home readiness Survey)
We checked if the Broadband internet connections (NO 4G or Mobile hotspots since our clients expect us to be clued in on the client calls) of all the employees are active and stable.
To cross-check this, we asked all employees to submit their internet broadband bills payment receipts.
This can be one of the best tips for working remotely that you can adopt to deliver quality work.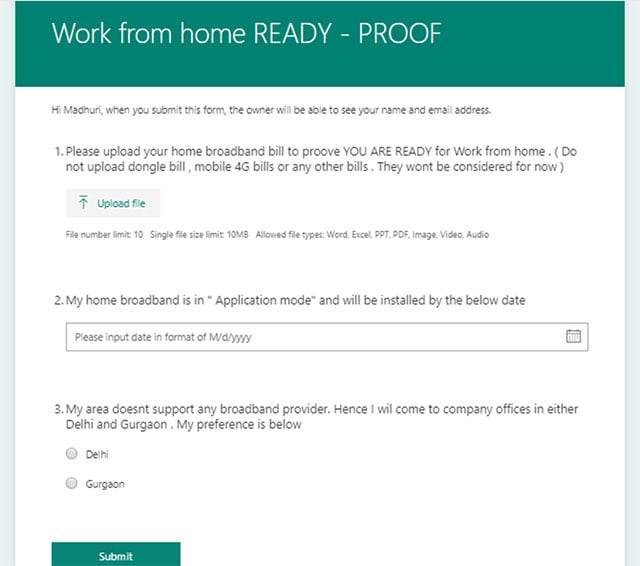 With this process over 25% of our employees who relied on Mobile 4G data for their internet access – came into action and applied for home Broadband internet within the tiny window which was pre lockdown – 23rd March 2020 from when Work from home was affected by the Govt of the respective states where our offices were.
4. Legal Documentation for Work From Home for Client confidentiality and IP protection
However, just equipping employees with Hardware (PC, Laptop) and Broadband internet wasn't enough.
Since we work for client projects, it is very important we also honor our commitment to Confidentiality and other IP related disclosures. For this purpose, a letter was drafted by our HR team in consultation with our legal team which was signed by every employee before the Work from home kicked into action.
Getting the legal documentation signed by the senior professionals and project managers is the step that can be taken to prevent the company's projects. You can consider this step as one of the best tips for working from home effectively.
5. System allocation with pictures for future-proofing company assets
We used MS Forms for record keeping the hand over of company hardware assets like Desktops, Laptops, Headphones, Keyboard and Mouse. All the hardware was clicked and screenshots were attached to the forms. We did this so that future reconciliation of assets can be done easily by our IT team.
If you've also provided company assets to your employees, you can use this trick as one of the best tips to work from home.
Post getting submissions from the surveys, we moved to the next step of providing access (to the NMG team) to the tools that are helpful to efficiently carry out their Work From Home.
Tools we are using during Work From Home
Discover different tips and tools that can definitely provide you with a well-managed work from home experience.
1. MS Teams
MS Teams is a group chat and collaboration software (which is available for free and comes under Office 365. This collaboration software can easily be installed and used on any device as it provides specific desktop set-ups for Windows, macOS, Linux and robust apps for Android and iOS smartphones.
On the top, it helps you work remotely, without letting you feel remote.
Features and benefits of MS Teams
Groups chats for teams working on the project
Groups call for teams and virtual meeting rooms
Common files repository which is powered by Sharepoint
Integration with 100s of 3rd party apps to make a common collaboration suite across apps
Integration with offices 365 and MS office suite of products like Word, Powerpoint, Excel, etc.
Share these best tips for working remotely with your friends to reduce half of your work hassle.
We have also recorded a small video explaining how we use MS teams.
2. Zoom – Video-conferencing
Using Zoom as your work from a home companion, you'll be able to do video conferencing, web conferencing, webinars and many other video recordings for work purposes.
Zoom is a leading tool in modern enterprise video communication and offers an easy and reliable cloud platform for audio and video conferencing.
All you need is to download the app and install it on your personal PC or laptop to get started.
Features and benefits of Zoom
Online meetings, training and technical support

Video webinar

Conference calls

Audio calls

Cross-OS platform messaging and file sharing
Using Zoom for team calling and video conferencing during the lockdown, you can provide your team the best ways and tips to work from home.
We did a company-wide stand meeting using Zoom on our 1st day of Work from home.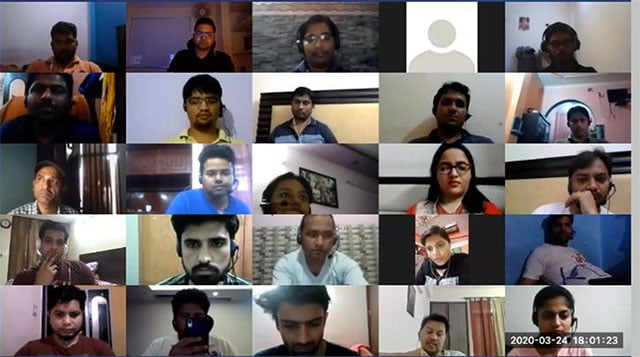 3. Zoho Projects
Zoho Projects is widely used as the best online project management software and tool. It's a cloud-based project management tool that helps you manage and plan your work efficiently. It also provides the tracking facility where you can track every project activity and collaborate with the team whenever required.
So, if you've also provided remote access to your employees, using Zoho Projects can be a good fit to track task progress for all your running projects. You can also use it as one of the best working from home tips and share it with all your tech connections.
Features and benefits of Zoho Projects
Get the work done on time
Get the big pictures of task with Gantt chart
Easy logging time with timesheets
Customize tasks and activities
Check how Zoho helps you plan and manage your work.
4. Office 365
By downloading and configuring the latest version of Office 365, you'll be able to collaborate and use Microsoft Word, Excel, Powerpoint, Spreadsheets, OneNote, etc.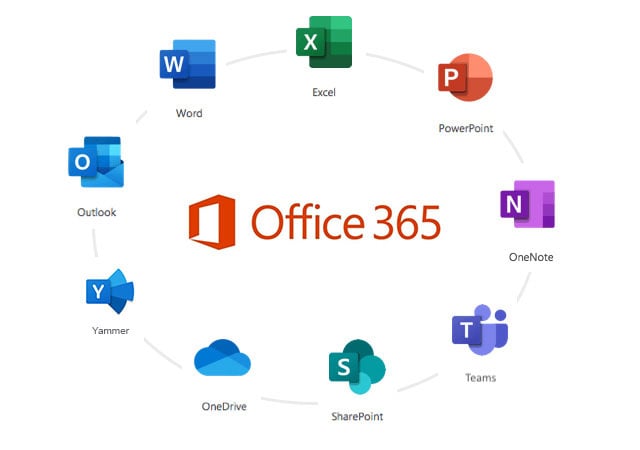 Features and benefits of Office 365
Monthly updates

– for installed versions of Outlook, Excel, Word, Powerpoint with all latest features and capabilities
Control on access

– to ensure access across multiple devices and OS
Ample cloud storage

– to store & share documents, photos and other important stuff
Digital storytelling

– by creating interactive web-based reports, newsletters and presentations
Collaboration

– efficient communication and work management
Microsoft support

– with quick online responses and how-to resources
Manage Email & Calendars

– with ease and efficiency
Connect and collaborate

– with the team associated with Office 365 via chat or sharing content
Access to power automation

– feature to create workflows between your files apps and data
Share videos

– of meetings, training sessions and presentations
Contact management– of all your colleagues and professional acquaintances
Office 365 has a lot of options that can let you work from home effectively and efficiently. If someone is looking for working from home tips and tools, you can recommend Office 365 to them.
5. Status Hero
When you use Status Hero, you'll be able to track your daily goals, activity logs, task status updates of your entire team, all in one place. It's a lightweight application, helping teams in doing daily stand-ups and tracking their day-to-day activities.
Features and benefits of Status Hero
Daily stand up check-ins and goals accumulation over email, SMS or bot.
Centralized activity logs that can be easily accessed from your existing tools like GitHub and Jira, Trello, Pivotal Tracker, etc.
Actionable insights to plan tasks and 1:1 meetings.
Acknowledge projects blockers in daily stand-ups and updates.
Beautiful graphs so that the team can instantly visualize overall productivity and efficiency.
Magic link check-ins help team members to access it without any login or downloading an app.
Time zone awareness for teams that are working across multiple geographies.
Customized reminders, holidays, reporting frequencies, and check-in questions.
Easy set-up and switching between multiple teams on the fly.
Activity stream of events from all team's tools in real-time, all in one place.
Insights and analysis so the users can drill down retros and one-on-ones data by date range or team member.
Comments, reactions and @mentions so all the team members can quickly get the info and help each other.
Check-ins categorization for pre-defined and new #hashtags on the fly.
Easy i

ntegration

with Slack, Jira, GitHub, Trello, Pivotal, Clubhouse, webhooks, Microsoft Teams, and

many more

.
Mood tracking to get a better sense of the emotional state of your team members.
Observer mode for stakeholders and managers who only want to view check-ins without participating.
It's an amazing tool to be used to track the remote work of all the employees with time and task assigned. We suggest you use this as one of the best tips to work from home.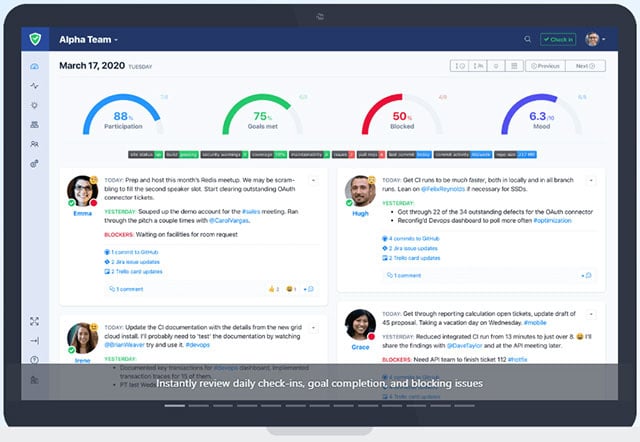 6. OneDrive
One drive is part of the Office 365 suite of cloud applications. We have configured it to do an automated backup of all employees' PCs on a daily basis. Hence we went remote and all the data on PCs was available from home to our employees.
Features and benefits of OneDrive
Automatic backup for your all your desktop files and folders
Access your PC files without PC
Undo all changes using version history
Protect all files from ransomware attacks
Collaborate easily with all Microsoft integrations
Safe and secure auditing and reporting
Data encryption during and after transit
Hybrid integration with SharePoint Server
Multi-Geo storage facility
Browse for animated GIFs to use in your document
Easy upload of multimedia via mobile devices
Device-specific selective synchronization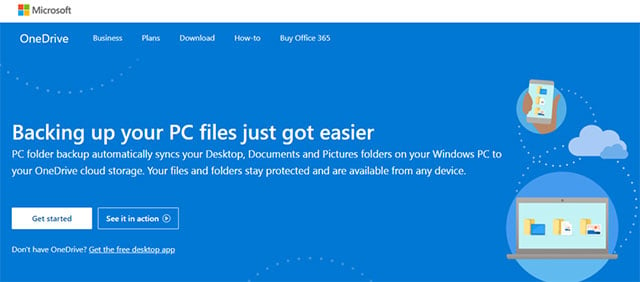 7. AnyDesk
Downloading and installing AnyDesk will quickly connect your IT/System team remotely and grant them access to resolve all the technical issues you're facing at your remote work office.
Features and benefits of AnyDesk
The below screen will appear when you log in to the AnyDesk to seek system team help.
You only need to give the numeric digits to the professional to enter into your system to resolve the particular issue. It's the best tool, making working from home far easier and successful.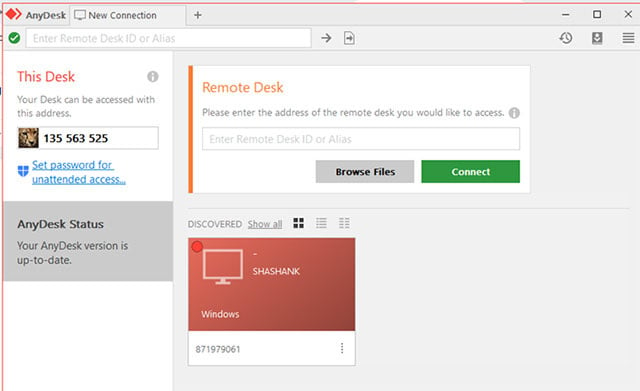 Also, watch the video to know how to run AnyDesk.
8. Loom
Loom is a screen and video recording software and they offered Free access to its plans during the Corona outbreak. The tool is available for Mac, Windows and Chromebooks and allows you to record your camera and screen with the audio directly from your chrome browser.
It's quite easy to create and share videos with this tool.
Features and benefits of Loom based on the different use cases
Engineering
Showing off features that are built
Investigative analysis and context overview
Describe how to read a code review
View how to set-up a repository
Explain project architecture diagrams
Detailing about debugging workflows
Demonstrate bug reporting
Sales
Prospecting the sales funnel
Onboarding and project training
Design
Design process with feedback requests
Gaining perfect design alignment
Share trending design tricks
Cross-team collaboration with design QA
Update project team for tasks
Meeting preparations for the next tasks
On-board new team members
Introduce new features and process with the team
Customer Support
Explain how the product works and troubleshoot issues
Record bug reports to share with the development team
Share workflow document and training videos with the team
Send the video to de-escalate the upset or frustrated customer
Ask users to record a quick video to share their opinions and product issues
Customer Success
Build relationships with sponsors
Easy and quick customer onboarding via explanatory video
Actionable meetings and follow-ups to build client trust
Asynchronous accounts to help across different times zones
Leadership
Grow business by sharing customer success stories
Prepare intros to share across your networks
Recruitment outreach via video to build team
Project updates to increase the team's effectiveness
Quick internal process overview
Internal bug report to strengthen leadership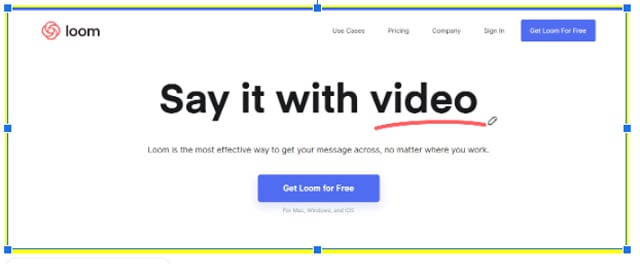 9. Invision
Invision is a digital product design, workflow and collaboration tool. We at NMG have been using it for over 4 years now. It helps web designers in product designing and other web design-related tasks.
The tool is built with the motive to design faster, better and together to accomplish various project needs. While working from home, you can utilize this tool as your best designing companion.
Features and benefits of Invision
Lets you connect your entire product design workflow
Helps you create rich interactives and prototypes
Seamlessly assist you to communicate and gather feedback to move ahead
Lets you and your team explore ideas on a digital whiteboard
Beautifully collect and present designs and inspirations
See the video to know how Invision can help you to remotely
Last but not the least – Spreading Work from home tips and tricks
Apart from accumulating surveys and providing useful tools, in the last week, NMG was actively providing useful tips and tricks to productively manage work from home. This was made using MS teams channels " Work from home tips".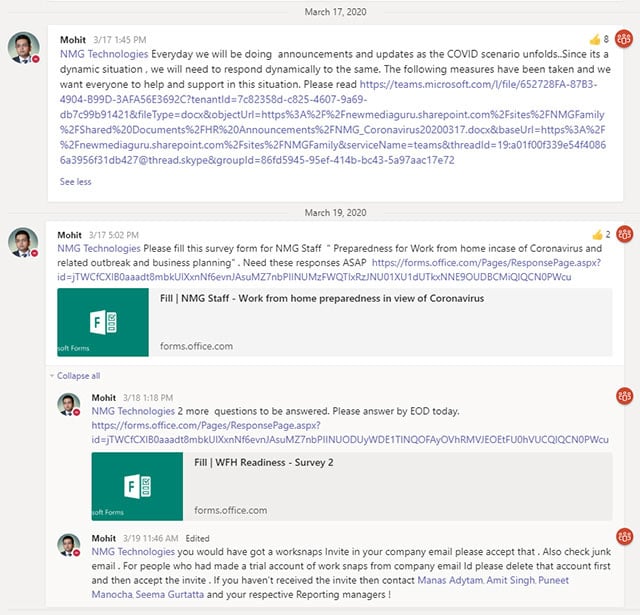 This is how we prepared our team for remote work and it has made the transition from office work to remote work seamless during Corona lockdown.
I hope the above-mentioned tips and tools have made you understand how to work from home during this lockdown and beyond.
Stay Safe!
Frequently Asked Questions
What techniques can I use to increase my productivity while working from home?
Things you can do to increase your productivity include isolating the workplace, concentration, consistent communication with team members using collaboration tools and have face-to-face interaction. Adopting these techniques can assist you to deliver quality work from home.
What are some work-from-home tips for people self isolating due to COVID-19?
The most important technique to effectively work from home in critical times is by creating a positive environment all around. You can make it happen by communicating and connecting with office and teammates via tools like MS Teams, Zoom, Office 365, etc.
Is working from home a solution against COVID 19?
As per WHO's recommendations, social distancing can prevent the viral spread of Coronavirus. In this scenario, working from home is the best way to continue your service towards the associated organization. So, be indoors to stay healthy and safe!
How effective are the companies setting up remote work from home to avoid COVID-19?
After COVID-19 kicked in, almost all the organizations prepared their employees with the best work from home strategies. To bring productivity during work from home, they also facilitated them with task management and collaboration tools.
As observed, organizations pre-planned and have also made unfailing strategies to make their teams' work from home experience collaborative, productive and successful.
How do you keep focused when working from home?
Keeping yourself focused is tough especially, while you're working from home but, you can achieve success by setting your target for working days. By doing this, you'll be thinking about reaching the target which brings creativity to your work. The best tip for working from home is isolating your workspace. It works best when you want to fully concentrate on your defined targets.