Estimated reading time: 6 minutes
Early this year we witnessed a one-of-a-kind event in the startup universe conducted by the Government of India on 16th January. #StartUpIndia event was graced by the Prime Minister Mr. Narendra Modi himself. The hashtag sure created a lot of buzz.
Early this year we witnessed a one-of-a-kind event in the startup universe conducted by the Government of India on 16th January.
#StartUpIndia event was graced by the Prime Minister Mr. Narendra Modi himself. The hashtag sure created a lot of buzz.
This event was primarily directed at revealing the StartUp Plan of 2016 that aimed at easing the challenges faced by Start Ups in our country.
Prime Minister Narendra Modi led the initiation of 'Startup India' event which was fueled by the idea to ease the compliance and regulatory frameworks for startups in India.
Held at New Delhi's Vigyaan Bhawan, the event was attended by over 2000 startup founders, investors and the like.
For startups and growing businesses, this event was one of the most anticipated occasions with the Startup community waiting for it with bated breath for one simple reason – it could prove to be a game-changer for emerging startups.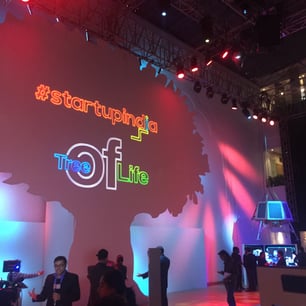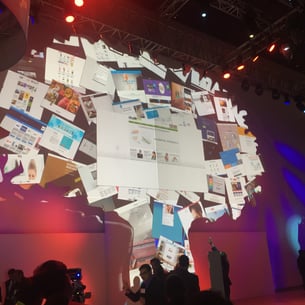 Startup India Event
Union Minister for Finance and Corporate Affairs Arun Jaitley inaugurated this event where the Minister of State for Commerce and Industry, Nirmala Sitharaman was the Guest of Honor.
The event was a global level workshop celebrating the spirit of entrepreneurship
Top Takeaways:
Unleashing Entrepreneurship and Innovation: What do Indian Startups Need to Grow and Prosper
Celebrating Women: Stories of Innovative Women Entrepreneurs
How digitization will change India's future
Making Indian Healthcare Leapfrog
Financial inclusion is within reach
There was a distinguished panel of speakers present at the event which included famous national and international investors, bureaucrats and Startup CEOs like Travis Kalanick – Uber CEO, Snapdeal Founder, Kunal Bahl; YourStory Founder Shradha Sharma, Vijay Shekhar Sharma of Paytm and OYO Rooms' Ritesh Agarwal among many others.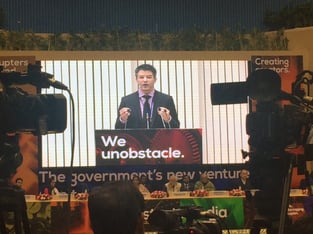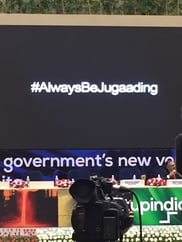 Uber CEO Travis Kalanick
Prime Minister Narendra Modi also unveiled the 'Startup Action Plan' that contained numerous positive initiatives for Indian Start Ups. Prime Minister also underlined the Startup India objective, which aims at reinforcing a commitment of the government towards creating an ecosystem that is conducive for startup growth.
The event was based on the following discussions:
#1 Defining and Recognizing 'Startups'
Perhaps the biggest change brought about with the Startup India Event taking place is giving identity and recognition to the word 'Startup'.
Until now, startups were simply non-existent in governmental policies. They were clubbed under the term 'Business'. But now startups have been recognized as having a definition and identity along with a direction from the Government.
#2 Self-Certification
GOI has initiated efforts to reduce the regulatory compliance burden on Startups and allow them to focus on developing their core business thereby keeping costs low and productivity high.
Startups will now be allowed to self-certify compliance with nine labor and environmental laws. For labor laws, no inspections will be conducted for up to a period of three years.
#3 Startup India Hub
With setting up of a Startup India Hub the Government has aimed to create a SPOC (Single Point of Contact) for the entire Startup community in order to facilitate a useful exchange of knowledge and suitable access to capital.
The startups will work in a hub and spoke model and work in collaboration with the Central and State governments, Indian and global Venture Capitalists, Angel networks, legal partners, consultants, R&D institutions etc.
#4 Mobile App and Portal to be Launched
The Government further announced the launch of a mobile app that will help startups take off their business. The app will feature facilities such as registration, obtaining clearances, filing compliances, approvals etc.
#5 Funding through Fundsb>
While not investing in Startups directly; the Government will help them through a fund of funds with a corpus of INR 10,000 Crore.
This fund house will be managed by the board of industry professionals, academia, and successful startups.
#6 Tax Exemption for 3 Yearsb>
Touted as one of the most positive moves in the plan, the Government will exempt Startups from income tax given on profits generated for first 3 years.
#7 Startup Festivalsb>
There are plans to organize national and global level startup festivals on an annual basis to showcase innovation in business and provide a collaboration platform to budding entrepreneurs.
#8 Student Programs b>
To promote and encourage research and innovation among students, the Government plans to implement several innovation programs including NIDHI, Innovation Core, and Uchhattar Avishkar Yojana.
#9 Setting up Research Parksb>
The Government plans to set up 7 new research parks at IISc Bangalore and all prominent IIT locations like Delhi, Hyderabad, Gandhinagar, Guwahati, Kanpur and Kharagpur with an initial capital investment of INR 100 Crores each.
These research parks will be modeled over the research part that is set up at IIT Madras.
#10 Atal Innovation Mission
Government plans to provide a unique platform to Startup for the purpose of promotion of top notch Innovation Hubs, Grand Challenges, and Startup Businesses etc. along with other related self-employment activities with a focus on technology driven areas. This will be achieved through the Atal Innovation Mission (AIM).
NMG Technologies attended and participated in the event to express solidarity and support the startup initiative. Being one of the fastest growing IT Offshore companies in India, our major customer type are the startups.
We are a Digital Partner for NASSCOM.
We have worked on numerous projects with the. A few of them include the following:
The Government's initiative for the Startup community and coming up with an action plan was widely lauded by budding entrepreneurs and their likes. 'Startup India' is the first step towards a long journey that Indian Startup Community needs to take to fully realize its potential in the business world.
To read more:
http://gadgets.ndtv.com/internet/features/startup-india-standup-india-event-everything-you-need-to-know-790263
http://economictimes.indiatimes.com/small-biz/startups/will-startup-india-stem-the-exodus-of-startups-to-singapore/articleshow/50620860.cms