Estimated reading time: 10 minutes
Top Ways to Find The Right Outsourcing Company
Businesses are, increasingly, outsourcing Software and Mobile App Development tasks to offshore companies with exceptional skill set allowing them to counteract the budget offset .Outsourcing may seem as your best bet for your business concerns; however, finding the right company to achieve the desired results, sure, isn't a cake-walk! The most common challenge that budding businesses comes across is:
How to identify one company that is capable enough to deliver among the crowd?
This article here will help you with some best practices that you can use in order to find the right outsourcing partner for your next development project. Use these while analysing companies so you can be sure to make decision based on data. In the end you will also find a cheat sheet on which you can rate each company based on the parameters that are important for your team and your business.
…
Many of us, sure, have stumbled upon some appalling stories about outsourcing. How someone spent thousands of dollars during a course of 6 months without any satisfactory result! This article will help you avoid this situation.
The most common method used by a majority of people is Google search. They browse through Google, enter a couple of keywords of required expertise and find a list of companies, analyzing and choosing the one which seems most appropriate. Money often becomes a decision maker, unfortunately, leading to some wrong choices and substantial number of failed projects.
Let's take a look at some issue you normally face while identifying the suitable companies:
#1 Gap in understanding your requirements
Even before you start working, a company needs to understand, analyze and define your business goals, and then, build a personalized solution for you. If your development team do not follow such practice, then you are sure getting yourself in trouble. Start by listing down your requirements and try to create a user flow of your business as a customer rather than a feature list. Companies usually avoid this step to win your project but this step is the more important step towards building your application.
#2 Inflexible engagement models
If your project is one of those which will evolve during development, then this becomes an important checkpoint to analyse your company. This aspects directly impacts your cost of development so you have to be sure of choosing the right engagement model that your business needs. If the outsourced team does not have any means to track their tasks or effectively manage, this can proves catastrophic for the project.
#3 Inexperienced resources
The company might claim to have many resources but they do not have experience developing products in your industry or similar technologies that you need. This could be a serious no-no for your outsourcing provider as you would not want to work with someone with whom you do have full trust in the skills they offer.
#4 Response time delay
Communication with offshore teams meant painfully waiting of time zones to match, slow chat conversation or broken voice calls leading to uninformed or mis-communicated loops of approvals and feedbacks. Today, everyone needs to know what's going on inside the production. YOur outsourcing partner should provide easy and powerful communication process so you can get straight to discussion – right away! – If this is lacking right from the sales pitching process, then that's a sign to look ahead.
By reading further you can avoid these issues above and find the right partner for your business, because there are numerous advantages that outsourcing offers… Which i will not discuss in this article and i assume you are aware of them and that's why you are reading this piece. If you want to understand how modern day outsourcing should work, download our ebook here which talks about the modern outsourcing approach to follow so you can align yourself with the right expectations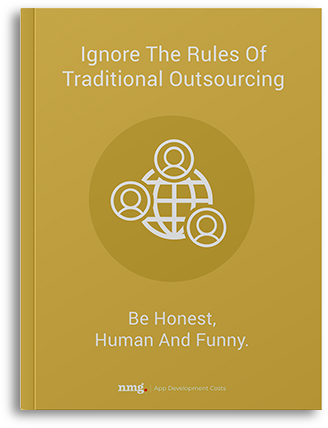 Ignore the rules of traditional
outsourcing
Let's begin by using the right sources to find your outsourcing company. There could be a number of sources from where you can scout for your next outsourcing team. Enlisted below are some of the common sources that are chosen ones to look up for a new outsourcing team.
#1 Google Search
Browsing a search engine is by far the primary step through which one can look for options for outsourcing. Basis the required skill set or technological expertise, prepare a list of keywords which would give you the most relevant search results to kick-start your quest. Once you get the search results, take time in shortlisting and selecting the most relevant companies basis their online reviews & industry reputation. Now that you have a list with you, sieve out the ones you find useful and take it forward from here.
#2 Online Marketplaces
Only the trusted ones please! These sources can be one of your great options, when seeking for an offshore outsourcing partners. There are various readily available online marketplaces that make offshore IT outsourcing more accessible as well as manageable. These online marketplaces expose businesses, on a look out, to hundreds of vendors spread across the world to provide the most relevant matchmaking & optimal results for basic project management requirement. You can search by skills, location, category, services and reviews. These listings can help build a certain level trust and expectation to begin your hunt.
#3 Referrals through Friends and Colleagues
Have some of your friends and industry colleagues or business partners referred some company to you? This can be one of the most dependable path. However, you need to screen through the team's credentials mindfully as what worked out for your referee might not work out for you.The company may not necessarily, have enough expertise in your project or match the selection criteria. Don't strike them off your list but do not choose as yet!
#4 Directory Listings
These are another popular way to look up the most optimal choices for outsourcing companies across the web, suitable for your project. Below are some of the sources using which one can allocate a potential outsourcing teams.
Next, let's list the important factors that you can analyse your outsourcing company so you can make the right decision.
Here's a spreadsheet template of rating matrix for your development companies. Rate your top companies based on the features mentioned and in the end you can have a clear picture of what your outsourcing companies can do for you.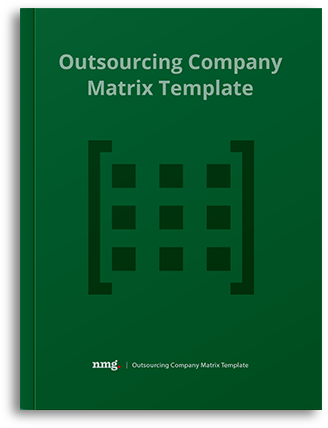 #1 Understand the Outsourcing Engagement Model which your Business needs.
Apart from various engagement models, there are a slew of methodologies that can be adopted, basis particular business requirements.
Agile methodology is an effective alternative to conventional project management methods typically used in software development. It equips the work teams to effectively coordinate and respond to the unpredictability with the help of incremental, iterative work cadences which are called sprints.To put it in simple words, Agile methodology basically refers to a unique way of managing IT projects and development teams.Here, software is developed in small and measurable releases making it a steady cycle. Each of the releases is built on the success of the previous functionality which is thoroughly tested to maintain quality.The Agile methodology can be helpful when there is a need for implementing new changes.The amount of freedom that one gets with Agile methodology is relevant to the project. Herein the new changes can be easily implemented at a low cost owing to the frequency of the new increments that are being churned out every moment.
Scrum Methodology is a part of the Agile framework that was developed to aid the completion of complex projects. It aims at removing the frailties of a typical project development life-cycle which can be accredited to a number of reasons, such as, changing requirements, unrealistic demands of cost, time and quality of the product. Projects, broken down into tasks, built with one small piece at a time, foster creativity and enable teams to relevantly respond to the feedback and change. Created originally for formalizing software development projects, Scrum can work well for any kind of complex task. Scrum can enhance teamwork, communication as well as speed.Scrum is the leading agile development methodology, used by Fortune 500 companies around the world.
#2 Understand the Skills and Capabilities of the Company
Choosing the right offshore team for your project is a critical step to successful outsourcing. Your outsourcing partner should be capable to bring the best and the brightest on the table.Since outsourcing is a demanding process and involves high business stakes, it is only relevant to have the best work with you every time. In fact, there should be a must-have skill set for your outsourcing team to perform. Below are some of the most important points that need consideration before you go ahead with your chosen outsourcing team:
Industry Experience: It is imperative to verify your outsourcing team's experience in the similar industry. The team should be familiar with the type of task you are to assign and must have a successful experience to back up their skill set.
Working Model: Prior to giving a go ahead, It is cardinal to ascertain their working model well in advance. Whether they work on hourly basis and how their price charts look like! These things need to be considered before you enter into an agreement.
Development Process: Make a note all softwares the outsourced team has worked on in the past & whether they align well with your requirements! Also, not to mention their development process and way of working.
Communication and Collaboration: You need to ensure that the communication and collaboration process of the outsourced team is at par with that of yours. Collaboration, communication and project management tools are necessary for an effective correspondence and also to follow the progress on the project in real time. Assessing communication skills is quintessential. This is especially critical for offshore clients since the only mode of communication will be Skype/Hangouts/VoIP apart from the phone. Given any communication gap, your project can go haywire.
Security and Confidentiality: From the security standpoint, Before you start working with a team, it is of absolute importance to examine their contract policies especially the conflict resolution terms that they abide by. You should be interested if their contract agreements. specifically, states the courts for conflict resolution. It must also have NDA (Non-Disclosure Agreement).
Timely Delivery: It is critical to ensure that your project will be completed in stipulated time-frame with the desired quality. Deadlines are paramount in business and working with a team that does not honor deadlines will throw your project off the hill!
It doesn't matter whether you make use of an outsourced or in-house team approach; there are chances that you are already connected in a globally distributed IT development ecosystem. What matters is the very understanding that conventional management tools and practices are sometimes inadequate in order to address the challenges of businesses who are readily embracing IT outsourcing in order to stay ahead. As a business, you need to make a strategic decisions to IT outsourcing and choosing wisely. A less expensive solution might not be the answer to the most competitive advantage that you seek for while Investing in a relationship with a reputable IT service provider that takes the time to assess your needs and offers a array of services is the way to go! Keeping in mind the above delineated pointers and staying clear of the common mistakes can help you locate & on-board the best outsourcing team for your project marking the beginning of a mutually successful business relationship.
Use this company matrix and score them. This will help you choose the most suitable company.
Let me know in your comments below on how you find this article.