How Reputation Rhino achieved a 2800% increase in their organic traffic in 24 months
Reputation Rhino, a leading reputation management company, struggled with low search rankings, affecting their online visibility and revenue. Seeking to improve their website's overall performance, they engaged NMG, an expert in SEO, Content Marketing, and Link Building. Our advanced SEO, Content Marketing techniques, and proven Link-Building Strategies helped them significantly improve visibility, search engine rankings, and organic traffic. This case study details our partnership and exceptional results.
SYNOPSIS
2800% Increase in Organic traffic

NMG's unparalleled SEO and content marketing strategies for Reputation Rhino made a remarkable impact on their
website traffic; in just two years, they experienced an astounding 2800% rise in organic search results and gained
400k+ impressions on their website.
2800%

Organic Traffic Increased
4,00,000


Impressions Gained

4000 +


Organic clicks increase
300 +


keywords in Top 10

250 +


keywords in Top 20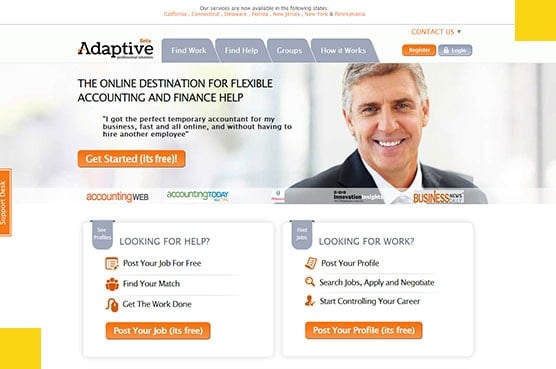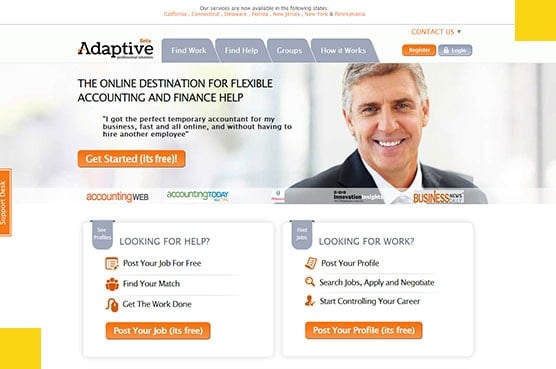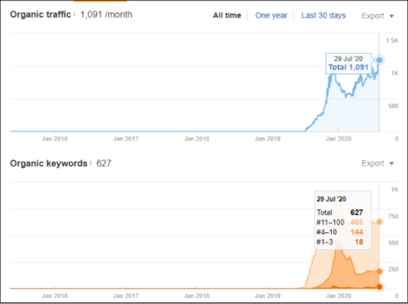 ENGAGEMENT HIGHLIGHTS
NEmploying our expertise in Advanced SEO techniques, we conducted comprehensive keyword research and devised a highly effective content marketing and link-building strategy for Reputation Rhino. Our approach focused on creating SEO-optimized content for new and
existing website pages, complemented by link building to drive relevant and authoritative links to their domain.
The results of our efforts were remarkable, as we increased their organic traffic by an astounding 2800%. In addition, through our data-driven approach, we achieved significant improvements in their website's search engine rankings and overall online visibility.

We performed deep Competitor Research, which covered 100+ critical SEO factors to identify areas for improvement and enhance their online presence. Comprehensive SEO research and competitors' analysis helped us identify the best strategies for Reputation Rhino's rapid growth. Competitor analysis also helped us understand their SEO strategies that improved their website's online performance.

We used comprehensive competitors' research to analyze the content strategy that helped them grow their website traffic. The analysis provided useful insights into which content topics resonated with their target audience and how to optimize keywords for higher search engine rankings. As a result, our content marketing strategies earned the client relevant and authoritative brand mentions, which boosted their website's organic traffic.

Our Link-building content campaigns for Reputation Rhino garnered media mentions from top publishers - Moz, Entrepreneur, Social Media Today, Business to Community, Small Business Trends, Tech Times, and more.
SEO STRATEGY
Reputation Rhino, a leading reputation management company, was facing a significant challenge despite delivering exceptional services. Their low search engine rankings led to declining online visibility, traffic, and revenue. The original site, reputationrhino.com, had significant site health problems and had flatlined at 200 visitors/month for years, despite continued efforts.

With an aim to increase the website's search rankings and traffic, NMG began with in-depth competitors' research and the website's technical SEO audit. This revealed critical issues with their technical SEO and content strategy. Therefore, after analyzing their industry competitors' content and SEO strategies, NMG created a data-driven SEO and Content Marketing strategy for Reputation Rhino. Our strategies included advanced processes like Master keyword research, Technical SEO, On-Page SEO, and Link building processes. To boost the website traffic, we created SEO-based content briefs that included all the keywords and sub-topics needed to be targeted to rank higher.


Our SEO campaigns began with an Advanced SEO audit and Competitor Research. The website's Technical SEO Audit helped us identify all the gaps and issues present in the client's current SEO and content strategy. Competitors' research helped us gain insights into their SEO and content strategies, helping them attract traffic to their websites and rank higher in search results.

We optimized the header, page title, meta description, and image SEO for On-page optimization and conducted an SEO Checklist encompassing over 100 crucial on-page SEO factors.

We optimized the structured data on the website by implementing schema tags such as Product Schema, Breadcrumb Schema, and FAQs Schema, which allowed us to occupy more space on the Google SERP.

Because reputationrhino.com had a long and checkered history, the link-building profile needed improvements. Old links that could be considered unnatural or spammy were removed.

With our Master Keyword Research and Low Hanging Fruit processes, we created a content plan for improving keyword ranking from the bottom of the first page to the top of the first page, which helped develop and upgrade existing and new content by user intent and subject.

We also upgraded content for existing pages to meet the high standards for "Your Money Your Life" (YMYL) search queries, for which Google stipulates substantially higher standards for quality.
ON-SITE SEO PROBLEMS
To start the on-site SEO process, we conducted a website audit to identify and fix all the website errors. During the audit, we focused on addressing the most critical elements and prioritized them accordingly. This approach effectively eliminated any potential threats to the website's search engine performance and laid a strong foundation for a successful SEO and Content campaign.

PROBLEM 1 – META TITLES AND META DESCRIPTIONS ARE NOT OPTIMIZED
Meta Titles were not optimized, and Meta Descriptions were missing on all the website pages, affecting its ranking in SERPs.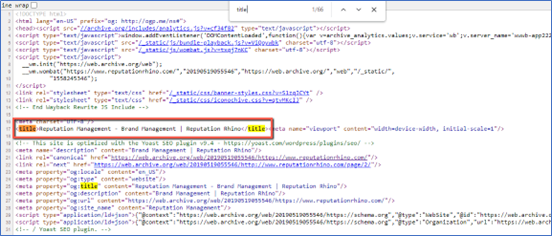 Before – Our initial analysis discovered that the Meta Titles were not properly optimized and that the Meta Descriptions were absent from most website pages.

After – Through extensive keyword research, we optimized the meta titles and descriptions with targeted keywords that enhanced the website's search engine visibility, increased click-through rates, and drove more traffic.
PROBLEM 2 – SCHEMA MARKUP TAGS WERE MISSING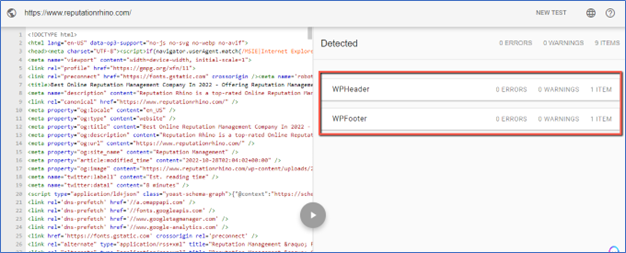 Before – Our analysis revealed that the website was missing essential schema markup codes, including those for organization, breadcrumbs, FAQs, etc. This was negatively impacting the website's search engine visibility.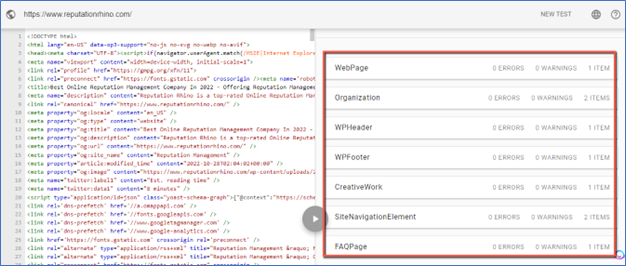 After – We incorporated the required schema markup codes throughout all pages to boost the website's search engine visibility and improve the user experience. By doing so, the website gained greater visibility on search engine results pages, as the schema markup codes supplied search engines with critical details about the website's content and layout.
PROBLEM 3 – BREADCRUMB IS MISSING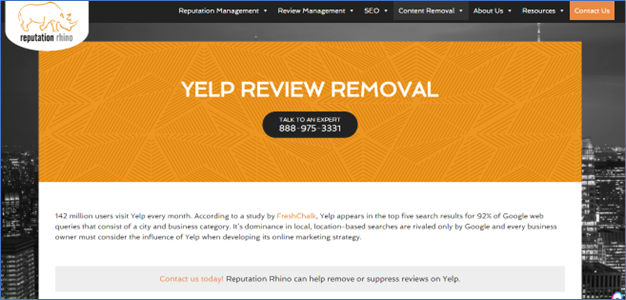 Before – Breadcrumb was missing on the website, which was affecting the website's visibility and search rankings. Therefore, we implemented breadcrumb on the entire site and also implemented breadcrumb schema code.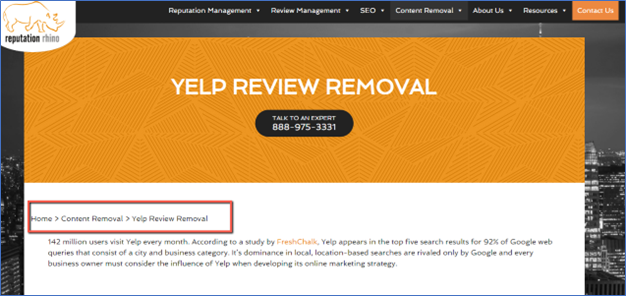 After – NMG implemented breadcrumbs across the website while implementing schema code to enhance the overall site health.
PROBLEM 4 – LACK OF SEO-BASED CONTENT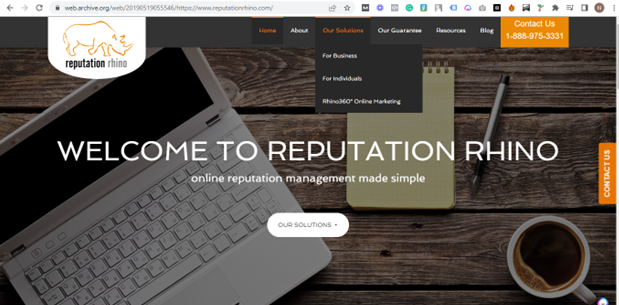 Before – The website lacked SEO-based content that could increase its visibility, ranking, and traffic. In addition, the existing content on the website did not have targeted keywords that were affecting its performance on Google SERPs.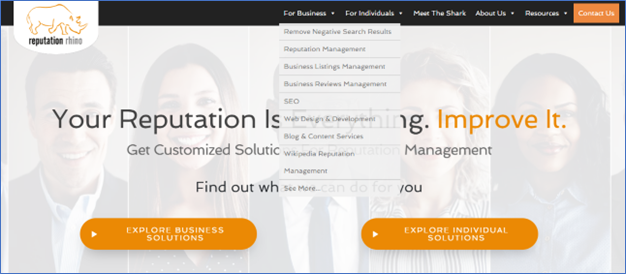 After – After a detailed competitors analysis, SEO audit, and Master Keyword Research, we created a content strategy for Reputation Rhino. We created well-researched and data-driven content briefs for different types of content that included primary/secondary keywords, competitors' URLs, and sub-topics that must be targeted to rank high. Our data-driven and SEO-based content marketing strategy helped us increase the website's ranking by 2800%.
OFF-SITE SEO PROBLEMS
The off-site process, meaning external linking, is a relevant complement to the on-site activities. Therefore, from the outset,
we do our best and use valuable websites to create a strong link profile. 

BACKLINK PROFILE GROWTH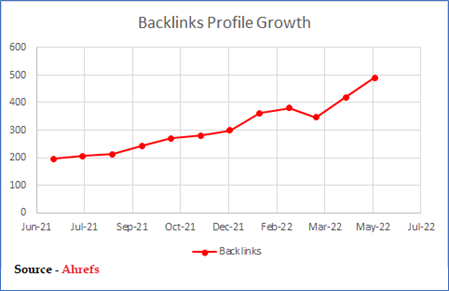 VERTICAL/INDUSTRY INSIGHTS

To outrank their competition in organic search, this client had one goal: build their presence on Google. 
The online reputation management industry must understand and comply with YMYL (Your Money Your Life) regulations and standards. As an online reputation management service provider, one must be transparent about their services, provide accurate information, and ensure their content is up-to-date, reliable, and free from harmful misinformation.
In the final stages of our content marketing campaigns, we went

a step further

to help

the client deal with revenge porn

removal

that was a threat to their website and was not

supporting the YMYL standards

.
As per the YMYL standards,

online reputation management service providers

must adhere to

ethical practices and

maintain

the privacy and security of their client

's

personal information.

By doing this, they can

maintain

their credibility and

reputation.

Todd William
Founder
(
Reputation Rhino

)

"I cannot speak highly enough of NMG, the digital marketing company that helped take my business to new heights. From Search Engine Optimization and Link Building to Data-driven Content Briefs and Website Maintenance, NMG provided a comprehensive suite of services that ensured my brand reached the right audience at the right time. They were always available to answer my questions and provided regular updates on the progress of my campaigns, which gave me the confidence to trust in their ability to deliver."
OUR CLIENTS
NMG is used by 300+ businesses and brands
We're full service which means we've got you covered on digital marketing , advanced seo , design , development and content right through to growth